Choosing the Right Wedding Photographer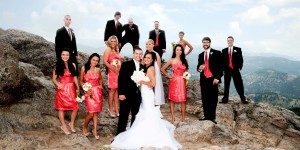 I always consider it an honor to be chosen to take wedding pictures.  That's because I know that a couple trusts me to capture a truly once-in-a-lifetime happening in their lives.  It's quite a responsibility, so I am a big supporter of choosing carefully.
The first thing I recommend is to choose someone who "feels" right You'll have to depend on them to know their business and get the right shots, with the right lighting…all the technical stuff to be sure.  But you'll also have to work with this person openly, sometimes under stressful circumstances.  If you don't feel comfortable talking to and being with that person, it might not be the right fit.
The best photographers are client-focused:  that is, they take the time to really listen and understand the look and feel you want and create a shooting plan that will get it.  It also means adjusting to your budget constraints.
The best photographers are flexible and creative.  They make plans for the locations, people and lighting.  But if they see different opportunities present themselves, they can take advantage of them or adapt to unexpected events.  I once took an entire wedding party in their ceremony attire up the side of a mountain to shoot what promised to be a truly unusual group portrait.  It began to rain, but everyone took it in stride and we ended up with some stunning images and had fun doing it.
Finally, the best photographers work with you after the wedding to make sure what you get what you want. I don't like to rush the after party, so to speak, because I know that the couples and their families are to a great extent reliving the event as they view the images.  All the fun and meaning comes back. I've also found that when couples and their families see the proofs, they can often change their minds or get new ideas of what they like.  I think that's important, too, because you want to make sure they get the best memories of their special time.
In short, there is more to choosing a photographer than just getting a good picture-taker.  This is someone with whom you'll have a trusting and somewhat lasting relationship, so think carefully.